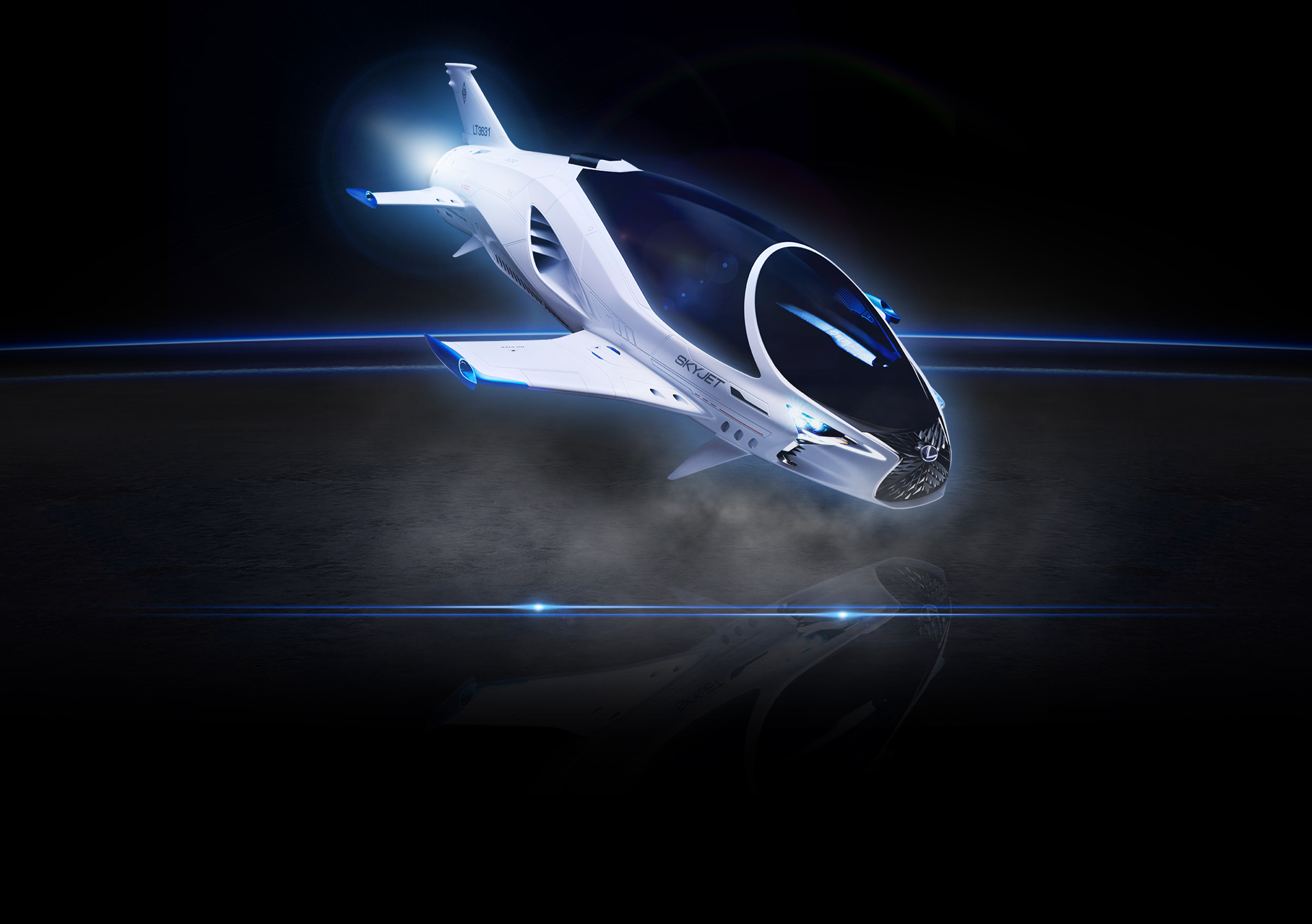 In the Luc Besson sci-fi epic Valerian and the City of a Thousand Planets, audiences are introduced to an entirely new world. This includes more than 3,000 types of alien, all-new kinds of architecture and futuristic weaponry – all to bring to life a world that exists 700 years in the future.
Besson has also envisioned new kinds of spacecraft – interstellar vehicles that travel through space and time. The film's central characters, Valerian and Laureline, are transported in the Intruder, a colossal spaceship. But one particularly exciting scene features the SKYJET, an exciting single-seat spacecraft designed by the Valerian creative team with the collaboration of Lexus. Taking design cues from Lexus' contemporary visual language, the SKYJET represents one potential future of personal transport, not just in its futuristic design, but in the innovative technologies it features, too.
1,800

KM/H MAXIMUM SPEED
1

SEAT
4.710

MM LENGTH
2.500

MM WIDTH
Organic in origin, the iconic SKYJET shape takes its cue from all that is aerodynamic in nature.
With speed and performance that's second to none, this agile single seater has evolved from the traditional fighter jet into a sleek powerhouse of artistry.
INSPIRED DESIGN
LC HEADLAMPS
Bold and distinctive. The SKYJET illuminates the future with headlamps inspired by those from the artistic Lexus LC.
LF-SA SPINDLE GRILLE
Taking inspiration from the signature Lexus spindle grille, the SKYJET has a powerful grille capable of withstanding attacks from varied alien technologies and weapons. Made of advanced military grade metal, it merges what's possible with what's never been attempted before.
FUEL-CELL TECHNOLOGY
The SKYJET propulsion is powered by fuel cell technology, sharing some similarities to that imagined for the Lexus LF-FC concept car. Propelled through galaxies, refueling by compact cartridges, the SKYJET soars into a clean energy future that's oil-dependence free.
RESPONSIVE COCKPIT
Expanding imaginations, the retractable glass cockpit opens by voice or touch, while the interior features inspiration from Lexus' latest developments in artificial intelligence and HMI (Human Machine Interface) technology.