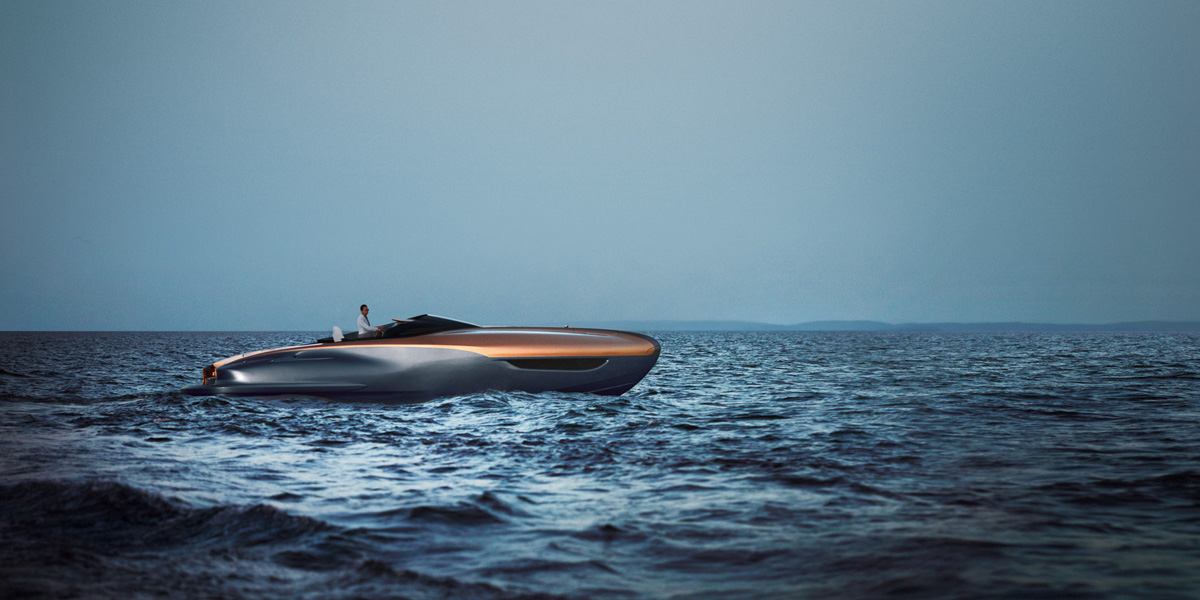 LEXUS HAS SPENT THE PAST 28 YEARS DEVELOPING A REPUTATION AS A MAKER OF LUXURY CARS. NOW IT HAS TURNED ITS ATTENTION TO THE WATER
On a cold, wintry day in November, the Lexus Sport Yacht concept darts smoothly across choppy breakers, first left and then sharply right. A frothy white wake trails in deep bluegreen water – a great sweeping pattern. This sport yacht concept is Lexus' first. Its hull is stepped, hydrodynamically designed to create as little friction at high speed as possible, thus increasing its velocity – and the number of stares it receives from onlookers. Its engines, muscular and commanding, enable its captain to push the yacht's speed to 43 knots, which puts it close to the top of its class, if not right at the summit. In other words, the Lexus Sport Yacht concept can move.
"This is the definition of high performance," says Ueda, Group Manager of the Marine Department, who, with a team of over 50 designers, engineers and manufacturers, developed the yacht across three continents.
 Ueda began this process in July 2015. In the 27 years prior to the Lexus Sport Yacht concept's production, Lexus had created, and then maintained, a reputation as a maker of luxury automobiles. In recent years, those vehicles had become both increasingly design led and emotionally affecting. Now, Ueda says, the Lexus Sport Yacht concept offers the same luxurious experience a Lexus car provides, only on water.
 Evocative design features, many of which have been taken from or inspired by Lexus' L-finesse design philosophy, abound. A team of eight engineers concentrated specifically on the yacht's engines, a couple of powerful V8s that were originally designed for the Lexus LC, Lexus' sporty coupe, and modified for use in the water. A specialist carbon material first developed for the LFA, the Lexus supercar, has been used throughout, making the yacht's exterior particularly lightweight, again increasing speed and performance. Detailed craftsmanship, which is evident in the yacht's high quality stitch-work, has been used in the cabin. Elements of the brand's future-thinking in technology, notably a 24-inch touch panel from which the captain is today controlling the yacht's functional instruments, are also on display.
Ueda is excited by each element individually, but it is their culminative impact that really thrills. The Lexus Sport Yacht concept has been designed and manufactured for uncomplicated, thrilling driving. In the water it is quick and rousing and easy to manoeuvre, even through choppy waters, and exemplifies the luxury experience Lexus aims to provide. As the captain opens the yacht's throttles to full power, the V8s roar, the wake lifts and trails, and off it goes, onwards into deep water.