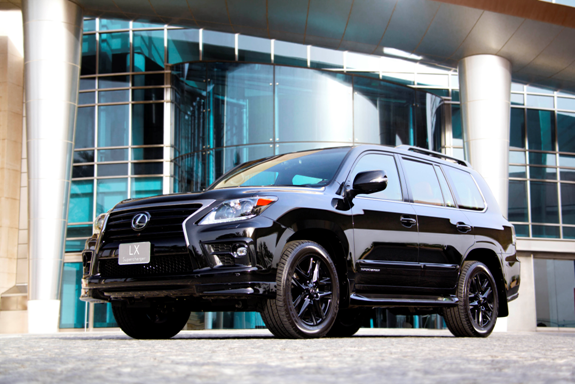 Monday, 22 December, 2014
Middle East gears up for 200 exclusive models of an extraordinary machine
May 24, 2014– Lexus – a brand that is synonymous with pure luxury and high sophistication – is celebrating its 25th anniversary this year. With the Middle East being one of its most significant markets, it comes as no surprise that the brand chose to mark the milestone, with the exclusive launch of only 200 units of one of their most talked about flagship models in the region. If a ravishing power-machine catches the eye as it struts down the most challenging off-road terrains in the region, it is in all likelihood the supremely powerful supercharged Lexus LX 570 in all its glory.
Whether navigating through busy urban traffic or combating the toughest off-road conditions in the most remote deserts, the LX 570 supercharged SUV can deal with it all, while pampering its occupants with sumptuous comfort and convenience – traits that are ingrained in the Lexus DNA.
According to SadayoshiKoyari, Chief Engineer, "It is the 25th anniversary of the birth of the Lexus brand and to show our gratitude for the continuous and ever-increasing support that we have enjoyed in the Middle East over the years, we are offering the Lexus LX Super Charger — an exclusive, special edition that takes performance and excitement to a new level and has already won kudos. As a special model for the Middle East only, production is limited to just 200 units.  Along with the standard Luxury and Sport editions, the LX Super Charger redefines the high performance progressive luxury concept."
According to Nobuyuki Negishi, Chief Representative of Middle East & North Africa Representative Office, Toyota Motor Corporation, "Lexus' reputation for creating the best luxury SUVs takes another leap with the launch of the supercharged LX 570 opening up an opportunity for the select few here in the region who appreciate pure performance to own this extraordinary SUV.Our relationship with customers in the Middle East is a long and trusted one and we wanted to do something special for them which is why we decided to introduce this distinctive model. This limited edition supercharged model gives its proud owners an immensely powerful and capable SUV unlike any other vehicle in its class."
The driving experience in this  model is nothing short of a power-packed affair.  So what is it about this supercharged LX 570 that makes it stand out? For starters, it is powered by a 5.7-litre V8 with 32-valve, DOHC engine with dual Variable Valve Timing with Intelligence (VVT-i) engine with supercharger churning out 450 HP and 72.0 kg-m of torque. This powerful engine teamed with a six-speed automatic transmission with paddle shift switches and standard full-time four wheel drive, gives this formidable machine the muscle to perform with the highest displacement possible. 90 % of the peak torque comes on stream at just 2,200 rpm, making the supercharged LX 570 exceptionally responsive and incredibly strong as a tow vehicle.
This is only the tip of the iceberg. Another high performance feature that this SUV boasts of is the Crawl Control System with the driver-selectable low range for the transmission, which is usually absent in other premium SUVs. This attribute provides low-speed crawling capability for handling steep off-road declines efficiently. Shifting into low range engages Active Height Control, which results in increased ground clearance of two inches by raising the vehicle.
Without a doubt, the plush comforts of the LX 570 supercharged edition are designed especially for those keen on indulging in the ultimate on-road and off-road driving experience. Crafted with a high-strength body-on-frame construction layout, the vehicle carries forward the marque's impeccable design heritage with some distinctive exterior elements. The striking         L finesse cultivated in the Lexus sedan series is carried over to offer the owner a powerful impact that can only be felt in this unique SUV which has been established on the framework of a genuine 4WD model.
The model stands out with its unique black hues on the front including the radiator grille, lower grille, front bumper, headlamp and fog lamps bezel. From a side view, the outside mirror, 20" aluminium wheels, door side molding, roof rail and the exclusive emblem grab the spotlight and at the rear the stylish shade enhances the looks of the bumper, combination lamps, emblem, back door garnish as well as the sport muffler.
The LX 570's impeccable exterior opens into an inviting interior which welcomes discerning occupants with Lexus' signature "Spirit of Hospitality" concept and introduces them to a vast interior space while exuding the concepts of "calmness" and "excitement" in perfect proportions. Intriguing wood grained and metal plated ornamentation contribute to Lexus' overarching sense of extravagance in combination with a high quality detailed finish.
The cabin experience inside this flagship stunner is both comfortable and enjoyable with its spacious interiors and versatile features. The vehicle's air-conditioning system features a 4-zone independent temperature control with 28 air vents and twin A/C units to provide an optimal environment for up to eight occupants looking to relax on-the-go. The one-touch tumble mechanism for the second-row seat offers a 40/20/40-split seatback to fit a variety of items. In addition, with the press of a button, the 50/50-split third-row seats fold to the side in seconds.
Music aficionados can expect an awesome experience with the supercharged LX 570. The SUV's premium sound system mimics the effects of an audio studio with a Mark Levinson Reference Surround System. Designed to create a realistic sensation of being at a movie or concert theater, the system makes use of 19 speakers that distribute multi-dimensional sound and musical theatre experience with absolute audio clarity. A home theater experience, with in-dash DVD player, a USB mini-jack for connecting media players and a central 9-inch touch screen display are just some other extensions of this premium sound system.
With phenomenal performance, excellent durability and luxurious comfort dominating its development philosophy, the supercharged Lexus LX 570 will make a signature statement for those 200 lucky customers while giving them the unique privilege of enjoying a truly special Lexus SUV.