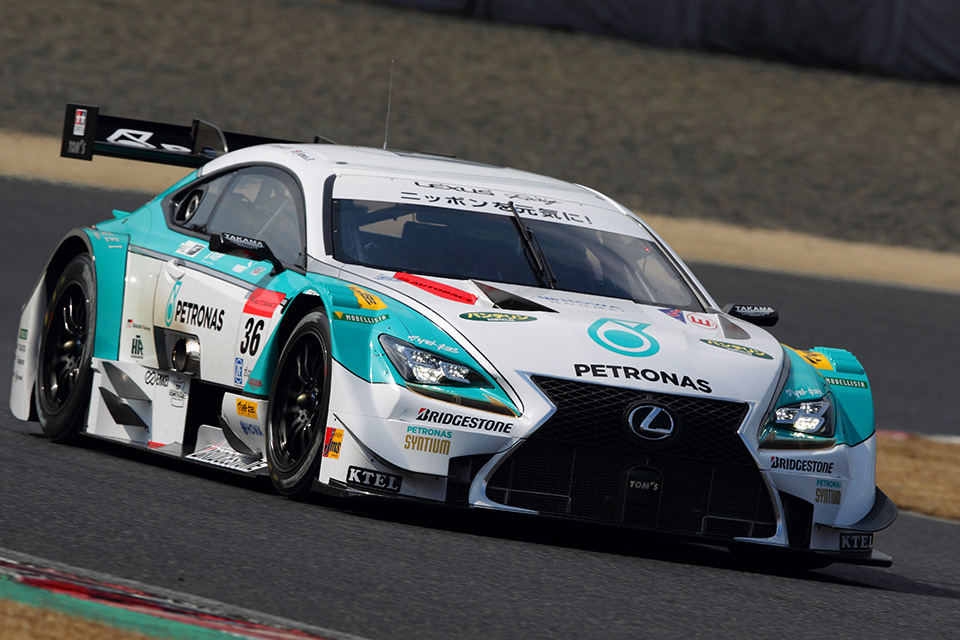 Monday, 22 December, 2014
PETRONAS TOM &KeePer TOM Lexus RC F powered teams remain in lead with 1st and 2nd Place rankings leading up to season finale in the Motegi GT race in Japan
October 13, 2014 – The No. 36 PETRONAS TOM RC F driven by Kazuki Nakajima and James Rossiter, gave the Lexus Racing team their second consecutive series victoryin a dramatic reversal at the BURIRAM UNITED SUPER GT RACE, Round 7 of the AUTOBACS SUPER GT series, which was held last week at the Chang International Circuit in Thailand. This win in the GT500 class puts the PETRONAS TOM RC F team in the lead in the season rankings while the No. 37KeePer TOM'S RC F team represented by Andrea Caldarelli and Daisuke Ito sits in second place in the standings.
According to Takayuki Yoshitsugu, Chief Representative, Middle East and North Africa Representative Office, TOYOTA Motor Corporation, "The Lexus RC F teams again proved their mettle with a superb finish to end Round 7 of the AUTOBACS SUPER GT series. It was a hard fought victory which was earned by a combination of great driving and a calculated pit stop strategy and I congratulate the No. 36 PETRONAS TOM RC F team for their victory and amazing performance. Moreover, the Lexus RC F with its uncompromising performance and durability has once again stamped its authority in this series. Lexus' participation in motorsports is an important aspect of our ongoing development to make even better road cars to satisfy our customers and adds to our acclaimed performance heritage."
Since the start of the race, the Lexus Racing team cars were never in the lead and were competing hard to come from behind to have a shot at winning the race. On the 37th lap, the No. 36 PETRONAS TOM'S RC F (James Rossiter/Kazuki Nakajima) and the No. 37 KeePer TOM'S RC F (Andrea Caldarelli/Daisuke Ito) both opted not to make a tire change. As a result, Ito in the No. 37 KeePer TOM'S RC F was able to get back into the lead. Several lead changes ensued after that till Lap 48 where the No. 36 PETRONAS TOM RC F's fortunes changed in the last turn when Nakajima slipped past a competitor.Following that, the No. 36 PETRONAS TOM RC F held on till the very end to take the checkers first by a margin of 1.9 sec.
The final round of the 2014 season will be held on November 16 at the Motegi GT race in Japan.
| | | | | | | |
| --- | --- | --- | --- | --- | --- | --- |
| Position | No | Team/Car | Drivers | Laps | Best Lap | Time /Diff. |
| 1 | 36 | PETRONAS TOM'S RC F LEXUS RC F / RI4AG | Kazuki Nakajima James Rossiter | 66 | 1'26.216 | 1:37'58.987 |
| 4 | 37 | KeePer TOM'S RC F LEXUS RC F / RI4AG | Daisuke Ito Andrea Caldarelli | 66 | 1'26.537 | 16.463 |